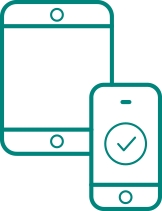 Your content, your reader
For certain institutions it may make sense to consider a licensing model of the Texidium platform – contact us so we can explore your needs.
The Texidium platform includes the Adoption System, the Digital Resource Portal and the eReader which provides an institution with adoption, distribution, and eReader with device syncing, highlighting, note-taking, bookmarking and sharing functionalities. With its easy to use interface and built-in accessibility features, the eReader provides a seamless user experience for everyone.  It can be used anywhere at any time using apps on iOS, Android, Windows, OSX and the web.
Highlight
important sections
Users can color-code key quotes, definitions, data, and more.
Bookmark
anything
Ability to save and sort through important content.
View
reading history
Users can go back to where they left off in their eTexts.
Share
notes
Users can share notes with their classmates and professors.
Contact us
If you would like to learn more about our white label solution or are interested in working with us please email texidium@kivuto.com.